With the ever-increasing scope of STEM jobs that are becoming available and the evolving dependence on technology – it goes without saying that your child is likely to end up in a STEM career when they get through school.
Therefore it's important to get children learning about science, technology, engineering, and math from a young age; this ensures that they have a good grasp on STEM requirements but the time they get into higher grades at school.
The challenge is that children don't respond well to formulated lesson plans that feature STEM subjects, and while most schools now have classroom hours that concentrate on these subjects, these simply aren't enough. You have to get your child interested in STEM subjects at home for them to truly excel and grow into their abilities.
These are the best ways to develop STEM skills in 3 – 6 year olds from home:
Make it an everyday, applicable experience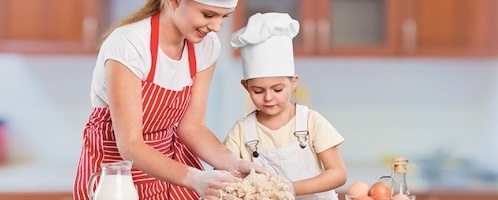 When children think of STEM subjects, they immediately think that they are going to come out of a textbook and this puts them off it before they have even had a chance to begin. It's almost impossible for children to retain knowledge in a lesson that they haven't enjoyed – especially when they don't apply it outside of the kitchen. There are so many ways to introduce STEM experiences at home in your everyday activities.
Shopping is one of the best ways to get your child to learn about money, and you can easily get them to help you when you're on your next grocery trip. A great way to teach them about science and numbers is cooking with recipes or simply explaining to them why water boils, toast burns or what ice is. Simple everyday explanations will foster a healthy interest in the various subjects.
Forget about the grades
STEM subjects are more harshly graded than any other subjects, and this leads to a high number of children and students that give up due to the pressure, or mindset that they simply aren't clever enough to do the subject. School is all about academic performance, and therefore it's important that you don't enforce this at home; rather get your child to enjoy the subject, and the process of getting to their answers – it's not all about getting it right.
STEM subjects don't have to be as daunting as they seem, and if you foster an interest and enjoyment of the subject, then your child is more likely to thrive in it academically. Don't force kids to do STEM activities or reprimand them when they get it wrong; the important thing is that they are trying it and showing an interest.
Make it enjoyable
Children learn best when they are having fun, and that's why it's so important to make sure that STEM experiences are enjoyable for your child. There are a number of ways to do this:
Take day trips: Take your child on day trips that encourage STEM education. Places such as museums, planetariums, zoos and car factories are all excellent to get them interesting in learning about the subject.
Watch science and tech shows: Bill Nye the Science Guys, Mythbusters and other science shows are a wonderful way to get your chilled hooked on STEM subjects, as a bonus, they will be interesting for you too.
Let them be your assistant: If you have a new phone, computer, IKEA desk or anything similar – then you should ask your child to read the manual and help you to build it or complete certain tasks. This will teach them, as well as get them interested in the subject.
Play educational games: Children love to play games, and there are so many educational games out there that encourage STEM development. For older tech-savvy kids, Google has coding academies and games, LEGO has robotics and coding kits and for younger kids building blocks and other games are perfect.
At Miniland we have a whole product line of educational toys dedicated to teaching 3 – 6 year olds the necessary skills for a STEM career. We have products such as Constructions to teach younger kids about engineering and physics, and Water Mystery that teaches children about science. Check out the rest of our educational toys for your child, and get them started early for a future that will be dominated by STEM careers.