Fun Facts and a Special Gift from us in gratitude for all you do…
At Miniland, we like to celebrate Teachers every single day. Everything you do is instrumental to shaping the young minds of tomorrow.
However, one of our favorite days of the year has to be World Teacher Day! Every year on October 5th, we celebrate and honor those special educators who support students around the world and show gratitude to those who inspire us in the classroom.
It's also a wonderful day to remind yourselves of the true impact you have on the students in your classroom.
How was World Teacher Day Started?
According to Houghton Mifflin, in 1966, the United Nations Educational, Scientific and Cultural Organization, or UNESCO, passed the ILO/UNESCO Recommendation concerning the Status of Teachers. The Recommendation established benchmarks regarding the rights and responsibilities of teachers. It set standards for their training and continuing education, recruitment, employment, and teaching and learning conditions.*
Now, UNESCO honors the anniversary of the Recommendation by celebrating World Teachers' Day in partnership with UNICEF, UNDP, the International Labour Organization, and Education International.
Around the world, people celebrate protecting the rights of teachers while ensuring there are new teachers who are excited about embarking careers in teaching.
To find out more about this important Day, Miniland researched some interesting facts about Teachers and the field of education:
Did you know, in India, the share of female teachers declines with the remoteness of schools, from 60% when the school is located at the local government seat to 30% when it is 30 km away?
More teachers are needed in displacement settings. If all refugees enrolled, Turkey would need 80,000 additional teachers, Germany would need 42,000 teachers and educators, and Uganda would need 7,000 additional primary teachers. Yet refugee teachers are often excluded from national training programs because of professional regulations on right to work.
Nearly 94% of teachers in pre-primary education, but only about half of those in upper secondary education, are female.
The proportion of women among primary school teachers in low-income countries (41%) is half that in high-income countries (82%).
In low-income countries, only 23% of secondary school teachers are women.
At the tertiary level, only 19% of teachers are women in low-income countries and about 46% or less in the other income groups.
**(Facts/information Courtesy UNESCO)
Here are some Fun Facts about teaching that you can share with your students today and throughout the week as you celebrate the importance of your role in education:
Who was the first Teacher?
Historically, Confucius is considered to be the first private teacher in history. Confucius was China's most famous teacher, philosopher, and political theorist, whose ideas have profoundly influenced the civilization of East Asia.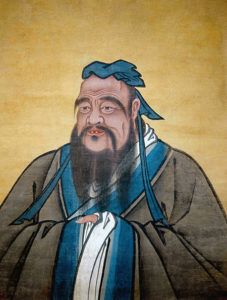 (Image Credit: Copyright Bridgeman Images)
2. When was the first school created?
Historically, modern schools were first established in Ancient Egypt from about 3000 to 500 BC (BC). The learning activities at that time were held in an open field that resembled outdoor classes or field days in today's modern world.
3. What was the first public school in the United States?
On April 23, 1635, the first public school in what would become the United States was established in Boston, Massachusetts. The Boston Latin School  has changed locations over the years, but it is still operating today and remains a public school.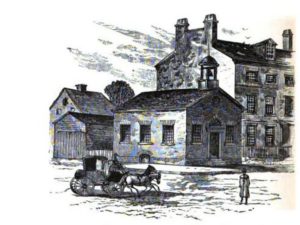 (Image Credit: Illustration By Ebenezer Thayer, Courtesy Wikimedia)
4. Who was one of the most famous teachers in the United States?
Anne Sullivan, who reimagined special education, using her experience and natural pedagogical talent. She is famous for being Helen Keller's teacher, a deaf and blind little girl. Anne became Helen's educator and eventually her very close friend. Being visually impaired herself, Sullivan knew what the girl was experiencing. It allowed her to choose special teaching techniques to help Helen communicate with the world. Anne would take her hand and spell each word on the girl's palm. This creative method proved to be effective, and soon, Hellen learned more and more words. With Anne's help, Helen Keller became a well-known author, political activist, and the first blind-deaf person to earn a bachelor's degree. Learn about more famous teachers at Wire19.com with this article by Jonathan Brown.
5. How many Teachers are there in the world today?
According to WorldBank.org, there are close to 85 million teachers worldwide: 9.4 million in pre-primary; 30.3 million in primary; 18.1 in lower secondary; 14.0 in upper secondary; and 12.5 in tertiary education. That's a whole lot of special people supporting the educational goals and achievements of children and adults all over the globe.
To show our gratitude for all you do, Miniland is offering you 20% off all Miniland products at Amazon.com:
CODE: TEACHERS20
EXPIRATION: 10/8/2021
Thank you for continuing to go above and beyond to support and shape our future generations.