Early childhood is the ideal time to begin emphasizing the importance of inclusion and acceptance. Helping young children recognize differences in genders, cultural backgrounds or physical abilities will help them become more considerate citizens and give them the ability to address injustice and discrimination as they grow and become adult members of society.
While these practices are luckily being reinforced among today's children, as parents and educators we can start even earlier by implementing 3 easy steps outlined below from the moment a new baby arrives.
Picture Books
While children likely won't be able to read picture books themselves until they are older, you can certainly read picture books to babies the moment they arrive home from the hospital. There are tons of benefits to reading to children from birth, particularly helping to develop essential language and social skills. Including a variety of picture books that include people of different ethnicities and abilities will help start promoting inclusion and kindness right from the start of your baby's journey through life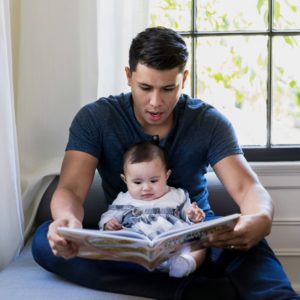 One easy way to effectively do this is by drawing attention to key people on the pages of the picture book by pointing them out and saying who they are and what they represent. At this young age, it is a good idea to focus on one thing at a time. Highlighting differences and speaking with respect and kindness will help promote inclusion and acceptance while also helping them develop their vocabulary as they learn to communicate.
Below are a few of our favorite books for newborns to toddlers:
My Heart Full of All: A Diverse, Multiracial, Inclusive and Multicultural Picture Book for Children
We All Belong: A Children's Book About Diversity, Race and Empathy
Learning Through Play
Toys are essential for many reasons, not just for "fun" while playing. We introduce babies to lights, sounds and colors from when they're born to help them develop skills to move their fingers and toes, as well as strengthen their cognitive abilities. As they get older, toys help with their fine motor skills and reinforce language skills.
Toys are also used to teach children social skills such as sharing, taking turns, and different toys can spark children's creativity and imagination. It is very important that children begin to get an understanding about different ethnicities, disabilities, genders, and cultures from an early age, as the more common it is for them, the more normal it will continue to be throughout their lives. At Miniland, we have diligently worked to create toys that help embrace diversity and foster inclusivity and acceptance. Our diverse doll collection is a great way to start creating an inclusive toy corner at home or in the classroom.
Introducing dolls that highlight conditions like Down syndrome or promote race quality is instrumental for children to learn about empathy, tolerance and acceptance. Children who wear hearing implants or glasses would also benefit from seeing dolls that also have hearing implants and glasses, while simultaneously allowing other children without them to accept their fellow friends who do sport those cool accessories.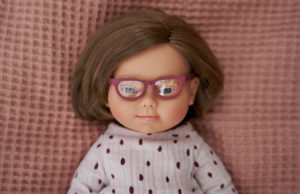 Playing with toys that encourage open-ended play is also a great way to encourage imagination and creativity while building on social awareness.  Doll play has long been known to foster nurturing skills, imagination and creativity.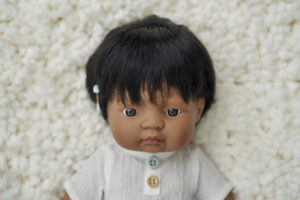 Participate in inclusive and diverse community events
Children attending inclusive and diverse community events with their families or through their day care is a great way to foster inclusivity and acceptance. Infants are constantly absorbing their environment through their many heightened senses. Being exposed to diversity and shown respectful behavior to others, regardless of race, color or condition, will help little ones model that same behavior.  Learning by example is the best way to start practicing treating others with kindness and making sure those that do not look like us are also included in the community and feel respected at the same time.
Check out your community's calendar for events that celebrate different cultural holidays and events that help champion different abilities.
By offering your baby ample opportunities and examples of diversity at home, at school and out in your neighborhood or travels, you're opening a window to their natural acceptance and tolerance of the world, leading them to become kinder, more accepting adults.