Despite all of the emerging high tech toys, classic doll play has stood the test of time giving children today the same imaginative and educational playexperiences as they did centuries ago. As an educational tool, dolls are invaluable at teaching children basic skillsduring each stage of their development, while also providing comfort, security, and a reliable friend.
Enhancing a child's self-image can be easily found through doll play. Adding affordable dolls in various ethnicities and genders, like these Miniland Dolls and fashions, throughout your classroom or daycare, you are strengthening a child's self-esteem by:
1) Setting the Tone for Imaginative Play: This is the main type of play for 3 to 6 year-olds. What they're doing in imaginative play is representing their understanding of their experiences, rather than simply imitating what they see others do. This type of play allows them to use the dolls to demonstrate actions and storylines with things that concern them, building their confidence in themselves and the world around them. For example, if the doll is going to take a nap, they understand that they too must nap every day. If it's time for the doll to brush their teeth, they too understand the importance of brushing their teeth.
2) Promoting Diversity: While identifying the similarities and differences in how they look in comparison to the dolls they're playing with, children can begin to understand that everyone is special and unique in their own way. This sets them on a path to feel comfortable in their own skin. For example, if a child thinks "I have dark hair and dark eyes too, just like this doll!" they are identifying themselves through this play pattern. They are seeing themselves in something that is tangible and relatable.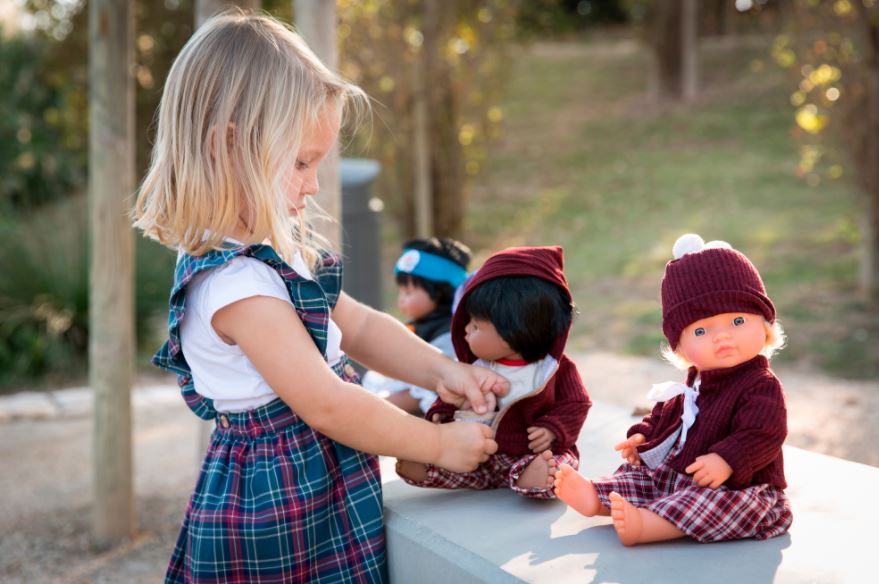 3) Encouraging Kindness: Being kind to one another is one of the most important skills you as a Teacher can encourage in the classroom. It not only enhances everyone's experience day to day but it also translates into lessons learned throughout other areas of your student's lives. Doll play inherently encourages a sense of nurturing and warmth that then spreads into how children treat one another. By being "gentle" with the doll, they too can understand they must be gentle with one another. By not throwing a doll on the ground or pulling on its hair, they can then understand if it "hurts" the doll, it too can hurt for a child or person around them. Kindness adds to a child's self-esteem by giving them feelings of joy and acceptance.
4) Strengthening Fine Motor Skills: Dressing and changing dolls into various outfits strengthen a child's fine motor skills, giving them the confidence they can use as they learn to grip and grasp various objects. By practicing these skills, they will feel more comfortable the easier these tasks become. Changing outfits on dolls also promotes a strong self-image by encouraging children to place different outfits together, depending on which patterns and colors they like.
Everything to a child can be educational, particularly in the wonderful world of play. By providing dolls and tools for them to interact with, you are giving them the confidence to figure out who they are and to accept those around them.