Now that the Holiday gift giving season has come to a close (that went by so fast didn't it?), parents and caregivers are busy recycling packages and wrapping paper, organizing new toys with old and figuring out which gift will last beyond this magical time off before school starts again.
Most gift givers likely wonder if the toy they're gifting will be a child favorite or if it will end up in the toy bin, donated somewhere down the road for another child to enjoy.
One of the things Miniland has strived to do is to create toys that go beyond that initial interest, maximizing its extended play value and really giving the gift giver a bang for their buck.
What does this all mean?
Take a doll for example: a young child excitedly opens their present to find a beautiful, new doll that looks just like them. They become enamored with their new best friend and take it on adventures to school, friends and family homes, car rides and more. Now, if that doll was just a doll, perhaps it could become a token of security for the child. But, its more likely to be set aside for something else if it just remains a doll. But, add in some clothes that are just the right size, some nursery accessories like a tea set or a stroller that first initial gift of a doll becomes so much more to that child.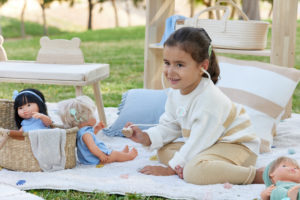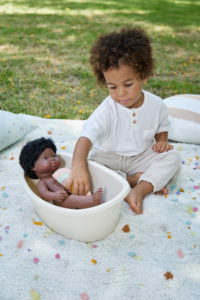 It becomes a companion to experience new situations with. To take a walk with, to "feed", to change an outfit depending on their destination. To play "doctor" with and help the child ease their anxiety for their own check-ups. It opens up their imaginative world. It's an ideal gift to extend that play beyond the initial gift.
If a child in your life was lucky enough to be gifted an Emotiblocks set for the holidays, the open-ended play of learning to name their emotions and the emotions of others is an already invaluable gift to give, strengthening their social emotional learning skills and building their communication and confidence. But did you know that Emotiblocks can go beyond those initial games and conversations? These blocks can also fit with our Job Blocks and our Family Diversity Blocks. They can all be interchanged to create any type of character the child likes.
Perhaps it's a "Happy" Nurse who just saved a patient, or a "Sad" chef who just spilled his pot of soup. Maybe it's a "Frightened" little brother who just saw a spider! The possibilities are endless when you combine your original set of Emotiblocks with other Miniland block sets to extend that play value.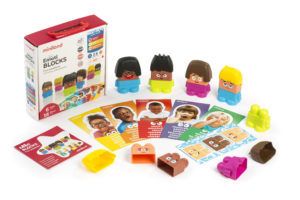 If you gifted a Teacher in your life with a Light Pad for their Classroom this Christmas or Hannukah, then gifting additional translucent accessories throughout the year like the Sort and Shape Abacolor or the Translucent Tweezerswould be a wonderful way to continue the longevity of that original gift of the Light Pad. You're extending its play value and continuing to support its use.
Sending a Doll Fashion or Accessory to the child you gave their first Miniland Doll with Down Syndrome for their Birthday or gifting some Family Diversity Blocks to add to the child's Emotiblocks set are just some of the ways you can continue to give the gift of learning while maximizing the value of your original holiday gift.