School is officially out! Summer days are finally here, and with that so many exciting adventures! Trips to see family and friends, summer camp, pool days, visits to the beach, and running around endlessly.
It's all so much fun and activities like these can be magical, memorable and exciting for your children and students.
After spending months learning about the world around them through sensory play, SEL, books and lesson plans, kids at this point want a little break. While understandable, it also brings its own set of challenges: the dreaded "Summer Brain Drain." What is that you ask?
Well, like a drain in a sink or bathtub, all the crucial knowledge, valuable information, and teachable moments your little one has absorbed all school year long can suddenly begin to seep out of their brains and "down the drain", leaving them a little less equipped once school starts up again in the fall.
The last thing any child or parent (especially educators!) want to do is sit with their kids during these previous summer days and work on educational lessons.
Luckily, play is the number one most effective way for young children to learn and regulate their emotions, with no lesson plans required. They won't even KNOW they're learning as they play! It's the best trick you could ever use.
We've rounded up some of the best ways to help your kids maintain their brain power and manage their emotions during the summer to avoid the Summer Brain Drain (AND have fun along the way):
Practicing Mindfulness: With all those barbeques and pool parties, fireworks and games of tag in the yard, children can become overstimulated quite easily. Some signs to look out for include:

Newborns/infants: Crying louder or clenching their fists, being extra cranky or tired, turning their head away
Toddler/Preschooler: Refusing to listen to your requests, crying a lot without being able to explain why, throwing tantrums
School-Age kids: Appearing sleepy, acting out of character, being grouchy or extra wild, showing signs of "attitude" or band manners
One of the best ways to quickly diffuse an overly stimulated child is to calm down their environment. For babies and toddlers, try bringing them to their nursery and sitting quietly with them while reading a book. Let them have a moment to just breathe and play on their own without any added noises like tv's on in the background. For toddlers to school age kids, try playing a game that focuses on breathing and moderate exercise, like our Mindful Kids Game.   This "spinning top" includes interchangeable discs to try out different techniques gearing to improving your child's mental and physical health, including breathing, muscle relaxation and yoga poses.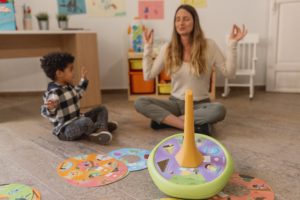 Help them discover and express their emotions: Children thrive on routine and schedules as they know when things are expected to happen. It makes them feel safe and in control of their surroundings. Experiencing a drastic shift in their daily routines, such as no longer going to school at a certain time and leaving the home and now either experiencing their days at home or in the care of a grandparent, baby sitter or camp counselor, can have an enormous impact on a young child's emotions and behavior. Helping them identify those emotions and reaffirm their value can have enormous benefits for children both mentally and developmentally. You can help them practice their self-regulation and emotional identification with some super fun Emotiblocks. Laugh and talk as they point out which block's face feels the most like them in that moment.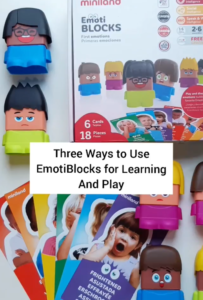 Three Ways to Use Emotiblocks for Learning and Play
Limited Technology: Limiting screen time is another great way to ensure children engage in other educational and creative activities, and prevents over stimulation. According to Very Well Family, "another culprit of overstimulation is technology in the form of television, computer, tablet, and cell phone. As a result, be sure you are following the American Academy of Pediatrics guidelines for media consumption.2"  In general, the guidelines recommend that children younger than 2 should not use any media, and if they do, such media use should be limited and only when an adult is around. For toddlers, media should still be limited, consist of high-quality programming, and never be used alone. For children 2 to 5 years of age, screen time should be no more than 1 hour per day. Parents also should avoid using media as the only way to calm children down."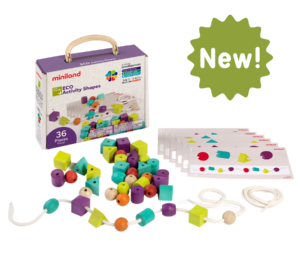 Provide your children with other outlets, including engaging toys and games that will redirect their attention. Sets like our ECO Activity Shapes can help children strengthen their fine motor skills while increasing attention and brain power. Watch as they carefully lace the shapes and colors together, either creating their own patterns or using the flash card patterns as guides.  Other games like our ECO Math Connectable Bearsreinforce colors and numbers. Children can snap these fun colorful bears together into patterns matching the numbers on the cards or create their own patterns as they build up their tower of bears on the included game bases.
Explore the Outdoors through Exercise: Exercise has long been proven to not only reduce stress but also improve health benefits and brain power: fueling attention as young minds learn and grow. Remember to take time to play a game of Simon Says or tag outside, hide toys in the backyard bushes for your children to find, or go for a nice walk with their beloved Doll and stroller.  You can even encourage walking barefoot on the grass, which many scientists believe can actually nourish your mind and body!   Even light to moderate exercising have long been proven to increase attention spans and encourage education retention. Getting your children to become accustomed to exercise and outdoor play from a young age will encourage them to continue to engage in those activities as they grow.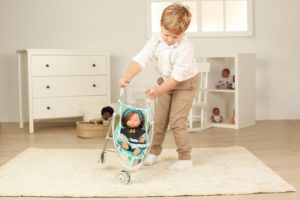 Maintaining a balance between engaging activities and quiet downtime isn't easy, but with some continued practice and awareness, you can help provide your child the environment he or she needs to increase their brain power this summer and help regulate their emotions.