Education Program Associate for the National Down Syndrome Society
I have two Miniland dolls with Down syndrome, and I think it is so cool that there are now dolls that look similar to me! When I was younger and often played with dolls, there were no dolls with Down syndrome or other disabilities. It would have been nice to have had a doll with which I could identify; it would have helped me to envision myself in all sorts of scenarios and contributed to a positive sense of my self-worth. It likewise would have helped other children to learn that having a disability is just a natural part of life, and that those with disabilities should be accepted and included in everyday life.
It means a lot to me that there are dolls with Down syndrome because the more that children have the opportunity to play with dolls that look just like them, the more they will feel validated and accepted. When playing with dolls, children act out scenarios and imagine engaging in many different experiences. Playing with educational toys helps children in the act of socializing which prepares them for symbolic interaction in society. By playing with dolls that look like them, children with Down syndrome can envision themselves in different roles, and having all sorts of experiences can positively impact their futures.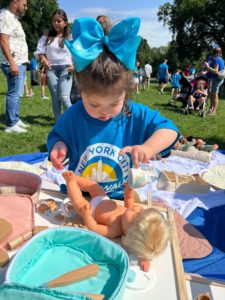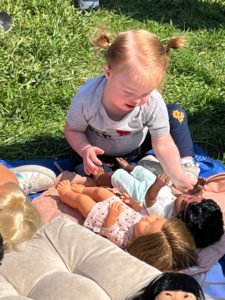 National Down Syndrome Society's littlest members playing with Miniland at the annual NDSS Buddy Walk event in Central Park, September 2022
Nondisabled children can do the same thing and it can open doors to other ways of thinking which can lead to acceptance, inclusion, and the knowledge that we are all more alike than different. Lasting friendships can be formed through inclusion and acceptance when nondisabled children view children with Down syndrome as equals.
The more they are able to dream about infinite future opportunities, the more children with Down syndrome and other disabilities can aspire to in their lives. This is why representation in toys such as these Miniland dolls is very important. It is important because it fosters not just self-esteem and self-worth but also inclusion and a sense of belonging and of possibility.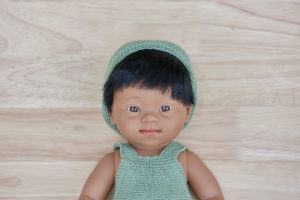 Miniland's Hispanic Boy Doll with Down Syndrome
It is important to support people with Down syndrome inside and out of the classroom. That is why NDSS recently published Down Syndrome: Guidelines for Inclusive Education the first document of its kind in the United States. Having a disability is a natural part of life, and being included is something that everyone desires, including those who are born with Down syndrome. The Miniland dolls can help to foster inclusion by enhancing the visibility of people with Down syndrome. They can also help to foster conversations about the issues that many people with Down syndrome face.
Dolls with Down syndrome can help shift perceptions of people with Down syndrome and society's attitudes towards them. This can snowball into shifting the narrative about Down syndrome and disability and bring about positive change in the world. Check out Miniland's dolls with Down syndrome here to find one (or two) that would work for you!
I hope that many children, both those with Down syndrome and those without, will be encouraged to play with them and that this will have a positive impact on them and on society.
You can learn more about Down syndrome at www.ndss.org. For more on Miniland's initiative with NDSS, head to Together We Play
About the Author: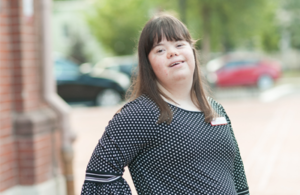 Charlotte Woodward is the Education Program Associate for the National Down Syndrome Society (NDSS) where she supports the development of education-related resources and educational policy initiatives. Charlotte was born with Down syndrome, as well as a heart condition, and had four open-heart surgeries when she was young. She is one of the very few people born with Down syndrome to receive a life-saving heart transplant, and she regularly shares her story to educate and advocate for others. Charlotte holds an associate degree from Northern Virginia Community College and recently graduated Suma Cum Laude from George Mason University with a bachelor's degree in sociology with a concentration in inequality and social change.