At Miniland, promoting learning through play has always been a top priority; nothing drives a lesson home more than the simple act of learning through play time.
 In the classroom, play continues to be a naturally wonderful (and fun!) opportunity to engage students of all ages as they learn important skills.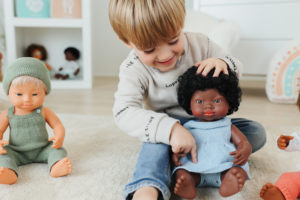 While Black history is a part of American history, the month of February provides a celebratory opportunity to dig deeper into the facts and cultural impacts of the Black community.
Miniland's biggest symbol of supporting students as they learn about the importance of Black history and representation has always been through a variety of play products.
This concept is at the heart of our Black History Month celebrations. We encourage you to make PLAY a center of your lesson plans this month (and every month!) and relish in your young students' ability to learn, with compassion and reflection, all about the beauty and uniquely defining qualities that make up the kaleidoscope of the Black community:
Reinforce that Black History is American History: Black History is crucial and relevant to ALL students and should be approached as such. Each day, start the day off with a famous quote or interesting fact about an interesting "Change Maker". These can include historical figures as well as modern, every day people who are making a difference not only in Black Communities but communities everywhere.
For example:
Claudette Colvin (1939 – ) is an American pioneer of the 1950s civil rights movement and retired nurse aide. On March 2, 1955, she was arrested at the age of 15 in Montgomery, Alabama, for refusing to give up her seat to a white woman on a crowded, segregated bus. Long before Rosa Parks, Claudette made a statement as a young Black American.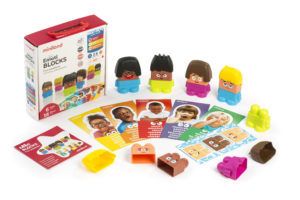 *Emotiblocks*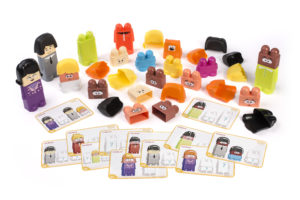 *Family Diversity Blocks*
PLAY TIME: Using Miniland's Emotiblocks and/or Family Diversity Blocks, have students recreate the story of Claudette riding the bus home, and how she stood her ground and refused to move due to the color of her skin. Both sets are interchangeable and the pieces complement each other. Using them together will give little ones an opportunity to create a more diverse story with more "people" involved.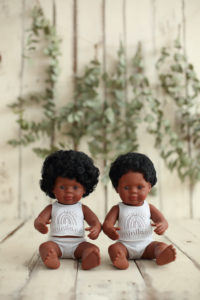 Our Emotiblocks and Family Diversity Blocks sets also include representations of African-American families and block figures to allow all children in the classroom to continue to see the beauty of different races and the normality of it. The more normal and accepting you make your classroom environment, the more accepting these young minds will be as they grow up.
PLAY TIME: Using your Miniland toys, let students' imaginations run freely. Or, provide some guided play examples like pretending to welcome a new African-American student (doll) to the classroom.
Stock your Bookshelf with Books about Black History AND Contemporary Black Authors: There are a range of wonderful books that are age appropriate for children ages 0-6. Pick a book each day to share with your students, and then make these books a part of your permanent classroom collection to read to them year-round.
Here are some of our favorites:
Ages 0 -3 : The Anti-racist Baby by Ibram X. Kendi and Ashley Lukashevksy
To build a more just world, start at the beginning. National Book Award winner Ibram X. Kendi and activist illustrator Ashley Lukashevsky have collaborated on a board book that helps parents introduce their kids to anti-racism at a young age. Bold illustrations and thoughtful, playful writing by the author of How to Be an Anti-Racist give parents the tools they need to help uproot racism in our society and ourselves. Printed in Italy.
4 and up: Whoever You Are by Mem Fox
Though this book does not directly address Black History Month, it focuses on the importance of acceptance every day, all year round, which is why it's one of our favorites. Every day all over the world, children are laughing and crying, playing and learning, eating and sleeping. They may not look the same. They may not speak the same language. Their lives may be quite different from each other. But inside, they are all alike. Stirring words and bold paintings weave their way around our earth, across cultures and generations and remind children to accept differences, to recognize similarities, and–most importantly–to rejoice in both.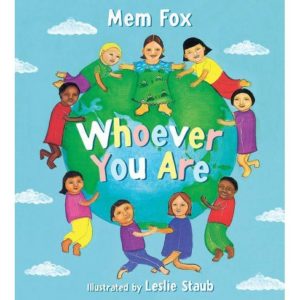 Image "Whoever You Are" by Mem Fox
5 and up: The ABC's of Black History by Rio Cortez
Its vibrant illustrations and rhyming text make for an engaging way to teach children about the fundamentals of Black history. Letter by letter, they'll learn about luminaries such as Malcolm X and Mae Jemison—the first Black woman in space—as well as concepts like Diaspora and Power.
Offering these opportunities to learn new things will enlighten and create confidence in your students, regardless of how young they may be. Remember, regardless of your own skin color, you have the power to introduce these important topics and modern-day change makers to your students in fun and memorable ways.